KVGM "The Last Wave" (8/7/22)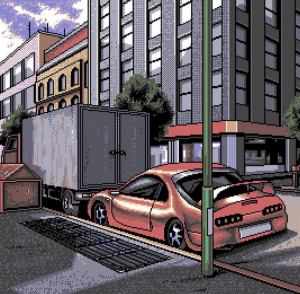 Do you hear that sound? Can you feel it? The cool ocean breeze in your hair, the salt on your tongue. It's the smooth crash of the Last Wave on KVGM with your host, Hammock, bringing you thirty minutes of the best video game jams(z) from all your favorite composers and consoles, each and every week from our beachside studio in sunny Aqua City Island. Sit back, relax, and get ready to catch…the Last Wave.
Back from vacation, refreshed, recharged, ready to jam the funk out with a bunch of PC tracks, a couple of PS1 tracks, a solo PS1 track, a Game Boy Track, and another special request from Professor Tom. We're starting to creep closer and closer to Episode #200…which could mean the end of the Last Wave? Who knows. Stick with us to find out. But for now, enjoy the smoothness and thanks, as always, for hanging out.
Playlist
Everyday: Ennui – Kenji Arai
(Senkou no Clarias, PC)
Gekomon Forest – Unknown
(Digimon Battle Online, PC)
Murder Suspect – Yoshio Watanabe
(Meitantei Conan: Chika Yuuenchi, Game Boy)
Team Set Up – Sota Fujimori
(World Soccer Winning Elven 2010: Aoki Samurai no Chousen, Sony PlayStation 2)
Kosuke Sato's Theme – Daisuke Iwasaki
(Love Refrain: Anata ni Aitai, Sony PlayStation)
BGM 13 – NoBrand Sounds
(Gyousatsu Shinsengumi Fresh, PC)
Daytime Bossa – MUSE
(Miho: Momoiro Byoutou, Menkai Shazetsu!, PC-98)
Credits – Yoko Tagaya
(Love Smash! Super Tennis Players, Sony PlayStation 2)
Special Request
A Secret Paradise – Toshikazu Tanaka
(The King of Fighters 2006, Arcade)
Podcast: Play in new window | Download